This Scrum Alliance-approved online course will be delivered in three workshops along with orientation and follow up sessions:

Orientation: 6/4 2:00 – 3:00 PM (EDT)
Workshop Hours:
6/8 – 8:30 am – 12: 30 pm (EDT)

6/9 – 8:30 am – 12:30 pm (EDT)

6/10 – 8:30 am – 12:30 pm (EDT)
Followup/Q&A: 6/11 – 11:00 am – 12:00 PM (EDT)
If you want to learn Scrum from the comfort of your own computer — and have fun along the way — this is the course for you. As the world's only provider of online, on-demand advanced Scrum Product Owner training, we've learned what it takes to be effective in a virtual training environment.
At Applied Frameworks, we put you at the center of the learning experience in two important ways:
We emphasize collaboration. Our online learning format combines virtual training with peer collaboration to keep you engaged in each session.
Learn while having fun. We incorporate Innovation Games® to teach Agile frameworks in a fun, collaborative environment. And Innovation Games aren't just a gimmick — they are a valuable set of frameworks you can use in your job too.
All of our courses are taught by experts with years of real-world experience, so you can be sure that all the lessons are paired with relatable examples.
Course Overview
The Certified Scrum Product Owner® (CSPO) course is an interactive class introducing the concepts of Agile business leadership using the Scrum framework. Successful participants will become Certified Scrum Product Owners, a first step in the journey towards a more adaptive form of business leadership focused on the business outcomes that matter and meeting the needs of the customers and users.
The activities, tools, and techniques covered in this workshop will prepare you to achieve the benefits of increased revenue, innovation, and customer satisfaction while delivering and sustaining a high quality product. The Online Edition of this class includes:
Guided preparation work to get you ready
3 virtual classroom sessions of 4 hours each
Lots of collaboration time with your classmates
A reasonable amount of homework and reflection between sessions
1 hour follow up Q&A session after the class concludes
Upon completion of this two-day training, you will be designated a Certified Scrum Product Owner (CSPO) by the Scrum Alliance® and receive a two year membership in the Scrum Alliance.
Praise from Real Students
Format
This course focuses on interaction — we only use lecture to cover the basic terms and concepts. Most class time is dedicated to fun exercises, engaging discussion, and team collaboration. We focus on practical solutions to real-world challenges drawn from decades of experience as product managers, Agile coaches and Product Owners in Agile environments.
What You Receive
A vivid, 55-page student workbook full of custom exercises, activities and course summaries that capture the essential points you need to learn and comprehend.
A two-year membership in the Scrum Alliance
Recognition by the Scrum Alliance as a Certified Scrum Product Owner
Fourteen SEUs/PDUs
FAQ
When do we start and end each day?
Details on the precise timing of each session will be supplied before the course.
Will there be pre-work? 
Before the class, we will send "Warm-Ups" for you by email – quick activities that will introduce you to some of the major concepts of the workshop. Brain scientists call this "priming" – familiarizing your brain with new ideas before the "official" learning takes place.
Scrum Alliance Continuing Education Requirements 
This course also allows students to claim fourteen Scrum Education Units (SEUs) towards maintaining their Scrum Alliance certifications.
Planning for the Unexpected: Our Cancellation Policy
We understand that emergencies happen, and you might not be able to attend the scheduled course. To receive a refund, just notify us no later than 7 business days prior to the class start date. If you have to cancel after the 7 business day window, we can issue you a credit that can be applied towards a future class with Applied Frameworks.
What You Will Learn
Through original content, interactive simulations, and real-world case studies you will learn how to:
Establish a vision that inspires your product team
Apply the right frameworks to identify and align with the needs of your core customers
Create high-impact features that maximize value while minimizing time and risk
Deliver incremental value by leveraging the appropriate blend of the Scrum framework and product management practices
Keep stakeholders engaged with collaborative roadmapping practices and iterative release plans
Topics Covered
Product Vision – A clear, shared vision is crucial for successful Agile teams. We'll walk through three techniques to help unify your team, stakeholders, and customers around the right vision for your product or service.
Collaborative  Roadmapping – Roadmaps are an important link between vision and the product backlog. Unfortunately, many roadmaps are a slide with a date and some bullet pointed features, which doesn't provide any context.
Learn how to create a rich, easily updated Agile roadmap that gives the right amount of context to help stakeholders and team members understand where we might be headed and why.
Learn how to use the Prune the Product Tree Innovation Game to collaborate with customers on your roadmap.
Product Backlog Basics – Learn the rules for a Scrum Product Backlog as well as a set of key practices for using the Product Backlog to help ensure consensus on what we are building.
Product Backlog Basics
Writing User Stories
Vertically Slicing User Stories
Acceptance Criteria
Backlog Refinement
Prioritization – The core of the Product Owner's job is to prioritize among the many great things we could do and help the team focus only on what is most important to do first. Most traditional techniques are too slow for most Agile teams, so many Product Owners prioritize solely on gut feel or by responding to the currently squeakiest wheel.
Learn a prioritization framework that helps you visualize the relative importance of your customer segments, internal & external stakeholders, corporate strategy, and maintaining a clean code base.
Use the Buy a Feature Innovation Game to collaborate with customers on priority.
Agile Release Planning – Believe it or not, we've heard many times the misinformed statement: "We're Agile, so we don't really plan." Not only is this not in line with Agile values, which state "We Value Responding to Change over Following a Plan", it is usually just bad business. The Agile value does not mean that we do not plan, but that we create a plan but then expect it to change as we start working on it!
Learn the nuts and bolts of creating an Agile release plan
Learn how and when to update the release plan
Working in Sprints – the Product Owner role doesn't end once the Product Backlog is ready for Sprint Planning. Your team will be most effective if you are available during the Sprint to provide feedback at key points.
Learn how the Product Owner works with Development Teams  during the Sprint
Best practices in balancing time among the team, stakeholders, and customers
Course Agenda
Preparation
Complete pre-assessment
Review Scrum Guide
Other readings and videos
Session 1 (4 hours)
Forming
Agile & Scrum Introduction
The Role of the Product Owner
Vision
Session 2 (4 hours)
Identifying & Validating Product Assumptions
Scrum Workflow
Stakeholder Management
Session 3 (4 hours)
Product Backlog
Refining and Ordering the Product Backlog
Incremental Product Planning
Post-Assessment & Feedback
Who Should Attend?
Scrum Product Owners, Agile Product Managers, Kanban Service Request Managers, or any individuals wanting to better understand and embrace the role that business and customers play in driving an Agile development effort. Such individuals might include:
Managers, Directors and VPs of Product Management
Product Managers at all levels of their career
Business Analysts
Functional Managers
Project Sponsors
IT Leadership (Managers/Directors/VPs/CIOs/CTOs)
Prerequisites
A basic understanding of Scrum is assumed. For example, participants should read one of the Scrum introduction books or other find another means of self-study. Previous experience on a Scrum project is desirable.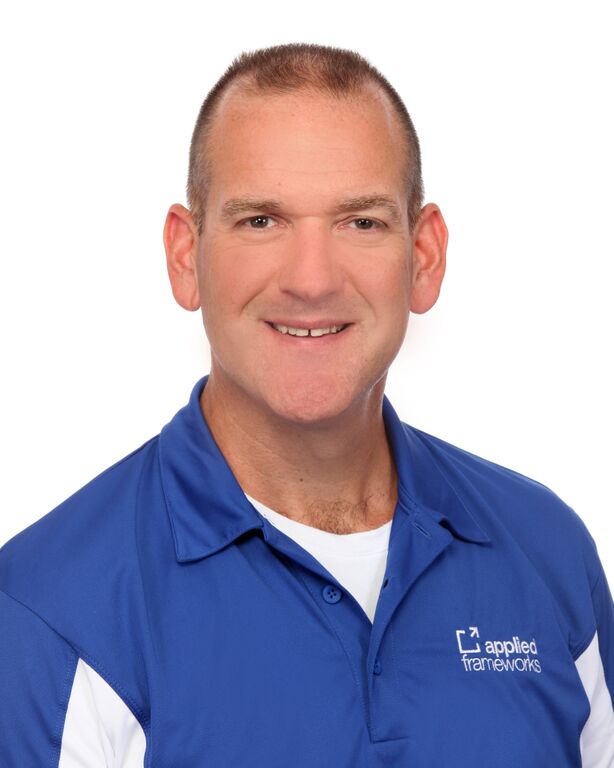 Meet Your Instructor
Jason Tanner
Jason is the CEO of Applied Frameworks, a consulting firm based in Raleigh, North Carolina. His passion is coaching people in organizations to develop products that customers love.
Jason's experience spans product management and marketing, business planning, partner management, project management and leadership. He believes that his attraction to Agile is based on over nine years of service as a Marine infantry officer.
He received an engineering degree from Cornell and an MBA from Duke. Jason is a Certified Scrum Trainer®, Certified Scrum@Scale Trainer and and Certified Conteneo Collaboration Instructor. When he's not working, he likes to exercise, read and learn new skills.